On Tuesday, January 16 we're giving our Member MeetUp networking series a health twist when we head to Green Carrot Juice Company.
Owned by the Co-Chair of our Small Business Advisory Council, Ibrahim "Obby" Khan, the franchise's juices are 100 per cent raw, with no additives, preservatives or fillers. Given the expanding number of locations, they're also in high demand.
We caught up with the busy entrepreneur for the juicy details.
The Winnipeg Chamber: Why did you start Green Carrot Juice Company?
Ibrahim "Obby" Khan: I started it for various reasons. Juicing literally saved my life and football career when I was battling, Ulcerative Colitis in 2008 – a story I'll share at the MeetUp. I love juicing at home.  It's a great way to get nutrients, vitamins and minerals into my body.I also saw the health trend was headed towards Cold Pressed Juicing. Plus it tastes awesome. When else are you going to eat 3 lbs of Kale?
WC: How did you come up with the recipes? Any favourites?
IK: It's lots of trial and error, lots of research and lots of sampling with friends and family.
My favourites are the green ones. They give you the most bang for your buck, nutrient wise:
Hardcore

​Apple, Celery, Kale, Parsley, Lime,  Spinach, Ginger, Lemon, MCT Oil, Aloe Vera, ​Cucumber

Supreme Greens

Swiss Chard, Spinach, Cucumber, Cilantro, Ginger, Lime

E3

​E3 Live, Cucumber, Celery, Spinach, Carrot, Lemon

Morning Greens

Kale, Cucumber, Spinach, Celery, Apple,  Ginger, Lemon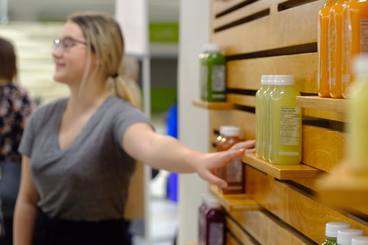 WC: How do you juggle so many locations?
IK: With a great staff and systems.  We are getting better every day but I have a great team to lean on.
WC: What's the hardest part about being an entrepreneur? 
IK: It never ever stops, there is a ton of stress and not enough time in the day.
WC: The best part?
IK: I am working for myself and building something that I want and is my vision.
WC: What's the best piece of feedback you've ever received about your juices?
IK: "They taste amazing and I feel so good when I drink them."
WC: How do you explain the name to people?
IK: There is no such thing as a green carrot except in Winnipeg at our three locations: 132 Osborne St, 2090 Corydon Avenue and the Winnipeg Airport –  with more Green Carrots to pop up soon!
UPDATE: This event is now sold out. We invite you to register early for upcoming
Member MeetUps.