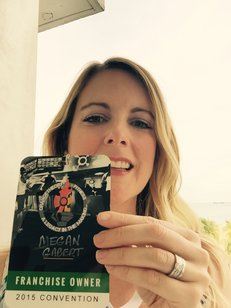 When Megan Gabert moved to Winnipeg, she was surprised to see no Orangetheory Fitness locations. She didn't complain about it, she created her own. ​Before she shares her keys to success at Toasting Winnipeg on February 17, we caught up with Megan to find out more about her and her one-of-a-kind facility.
1. Tell us the story of how Orangetheory Fitness came to Winnipeg.
I was living in Edmonton and I was a member at Orangetheory Fitness there. I loved it. It was the only "gym" I attended regularly and got the results I had been looking for after years plodding away at the gym. My husband and I decided to move to Winnipeg to be closer to my family and we were looking for a small business to buy. When we were looking for houses, I couldn't decide which part of the city we wanted to live in, so I decided to choose an area close to an Orangetheory Fitness. To my surprise, there were none in Winnipeg! Since we were considering buying a small business anyway, I contacted the franchise, bought a license and the rest is history!
2. What sets Orangetheory apart from other gyms?
Orangetheory Fitness is not a gym where you drop in and workout on your own. It is a personal trainer-led one-hour full body workout. Your heart rate is monitored in real time on screens throughout the studio which ensures optimal results. The goal in one hour is to get your heart rate at 84% or higher of it's maximum for 12-20 min (all cued by a trainer). This results in women losing on average 500 calories per workout, and men burn about 800-1000 in just one hour.
By doing a proper interval train (made easy by the real time heart rate monitoring), members will induce a physiological effect known as EPOC (Excess Post-Exercise Oxygen Consumption) also known as "afterburn" which results in members burning calories at approximately 20% higher than their normal rate for 24-36 hours post workout. So you could literally be watching TV on your couch the next day still burning calories from your workout the day before. By combining this with a full-body strength and conditioning workout, members will see optimal results comparable with those of having a full-time personal trainer.
All members will be emailed a workout summary after every workout to track progress. Quite simply, Orangetheory Fitness is not a gym, it's a calorie burning machine for all fitness levels.
​3. With people trying to follow through on their New Year's resolutions, January can be a busy time for fitness. How do you capitalize on that?We are excited for January and all the new people who will be trying the workout. However, Orangetheory Fitness is all month to month memberships, so we have to earn your business every month. We don't rely on locking members in for a year or two, knowing that statistically  most of them will stop coming regularly by mid-February. We provide an amazing and unique workout every day that guarantees results. So we don't capitalize in the traditional way of locking people into a contract when they have "New Years resolution brain" – we want them coming and using the studio every month and seeing results. I am hoping we have lots of new people wanting to give it a try, but if they don't feel it's for them in the long run, they can cancel with no fee, based on 30 days notice.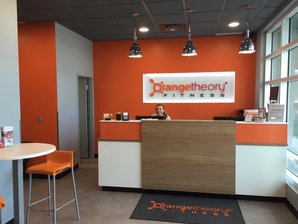 4. What do you like about doing business in Winnipeg?
The people. My members, in general, are so amazing and I feel we have developed a friendly and welcoming atmosphere at OTF Sage Creek. There are no cliques, there are no mirror selfies, there is no intimidation and our coaches are encouraging, friendly and knowledgeable. We don't do boot camp style. This has all been made possible by amazing and friendly Winnipeggers!
​
5. What is the best part of your job?
Seeing my members get results they haven't seen before. When they go down clothing sizes within 1-2 months, when they have to reduce or eliminate blood pressure or diabetes medications, when they say they feel welcome and love coming where they haven't felt comfortable before at fitness facilities, when they trust us with their personal goals and share their successes with us. That makes me feel like I have the best job in the world.