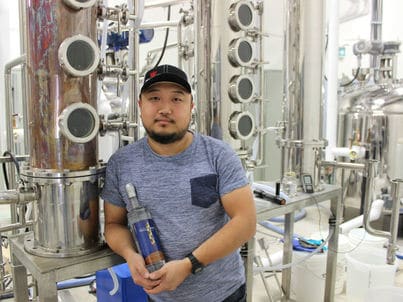 On Thursday, September 14 your Winnipeg Chamber kicks off our
Member MeetUp
series – an evolution of our former Chapters program where we invite members to network at member locations.
Our first host is Jason Kang, the founder of Winnipeg's only craft spirit maker Capital K Distillery.
We asked him to share his advice to young entrepreneurs, plus how he gets the taste of the Prairies into his products.
The Winnipeg Chamber: What spirits do you make – and how are they infused with the taste of Manitoba?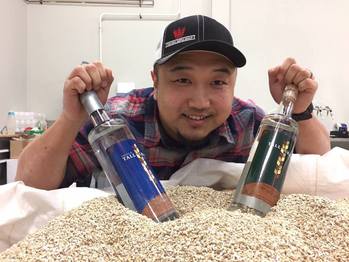 Jason Kang: ​We have our base alcohol – vodka – which we make from 100 per cent all natural Manitoba grain. Manitoba has really good grain, especially wheat. It gives you that extra creamy, sweet, fruity taste you can't get from anywhere else.
Most vodkas are made from potato. It tends to be "rougher" tasting compared to the wheat-rye blend we use, which forms a milder base.
We started making Tall Grass Vodka because it doesn't have an aging process, so we could sell it right away for a cash flow. We're also already making Tall Grass gin, which is made from our vodka. The biggest gin producers making it from neutral spirits they purchase from other companies, but since we already have the equipment and are already making the vodka, we're just using the same base spirit for the gin.
Normally gin is very dry and piney, but our gin is not – it's almost a fruity, refreshing gin.
WC: What led you to open a craft distillery

​JK: I was a homebrewer back then in the day, making beer and wine at home, at the time I was in university. I did have two part-time jobs, I made decent money, but compared to what we were drinking at the time it wasn't enough. Basically we found a way to reduce the cost of our liquor, which was home making. That was six or seven years ago.

WC: What's the biggest challenge you've had to overcome?

JK: ​The general public in Manitoba, don't have this concept of crafting spirits – we're just starting to get familiar with crafting beers. So for us, it's hard to get our name out there because people have never thought of local distilleries and so they're not looking for it. We need more customers to know about us first and then people to start asking questions.
WC: What advice do you have for entrepreneurs who are starting out?
JK: ​People always say passion is what gets you into business. But passion will only carry you so far – at the end of the day you need patience. Patience will keep you going.
You can connect with Jason Kang, tour

Capital K Distillery

and network with other Winnipeg Chamber members on Thursday, September 14. Tickets are only $10 and space is limited.