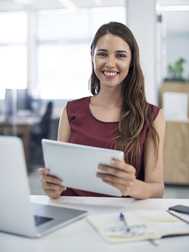 Engage your customers and employees in a fantastic event to help people breathe easier – Tulip Days, a fundraiser for the Lung Association that happens between February 21 and March 4.
Volunteers from the Lung Association will deliver bouquets of colourful tulips that will brighten up the day on your behalf.  Your customers will appreciate that your business supports the community.
"The Lung Association is a very worthwhile charity and tulips in the middle of a Manitoba winter are always a welcome sign that spring can't be that far behind," says Laurie Burns, a workplace champion and employee at Super Thrifty Drugs Canada Ltd.
It's easy to participate in Tulip Days. All you need to do is:
The Lung Association will provide you with posters, order forms and other materials for employee communications. And then we'll deliver the bouquets to your office during the week of February 21.
Tulips are hypoallergenic making them safe for people with sensitivities. Plus money from tulip sales will support people when they need help.
Individuals who register to be workplace champions before January 13 will be entered to win prizes like tickets to Rainbow Stage, and gift packs from the Goldeyes and the Winnipeg Jets. To get involved, contact Corey Weir (Fundraising and Communications Coordinator) at 204-774-5501 or [email protected].