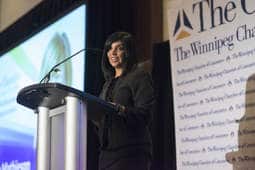 Do you work or volunteer with a CPA who is dedicated to giving back to the community? Nominate them for the CPA Manitoba Community Service Award.
As you know, community-based organizations rely on the dedication of knowledgeable and committed volunteers to support their boards, contribute to daily tasks, direct their vision and achieve their goals.
Recognizing that many of the approximately 7400 Chartered Professional Accountants (CPAs) in Manitoba dedicate their time to volunteering in some capacity, CPA Manitoba created the Community Service Award as part of our Member Recognition Program.
The Member Recognition Program recognizes the excellence of CPAs who make remarkable contributions in a variety of different ways. Each year the program culminates at a gala where award winners receive their awards in front of friends, family and colleagues.
The CPA Manitoba Community Service Award is bestowed to members who have made outstanding contributions to community service or volunteer organizations.

In the two years since the inception of the program, we have been pleased to recognize two individuals for their service. However, this recognition would not be possible without others taking the time to complete a nomination package.
We ask that you help spread the word about this program and nomination criteria.
Nominations will be accepted until November 30, 2017.
To learn more about the program or nominate a deserving CPA, please visit CPAmb.ca/memberrecognition.