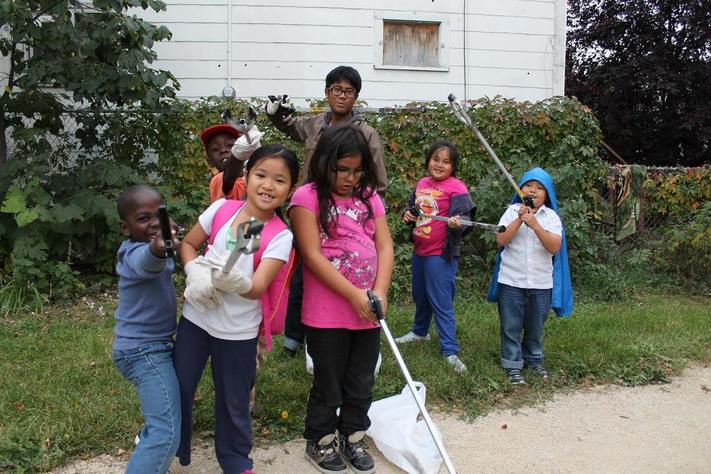 Dorian grew up in Winnipeg's West Central neighbourhood, a community tied to one of the poorest postal codes in the country.
In high school, drug and alcohol abuse distracted many of his friends from achieving their full potential. He watched as his peers began "slipping away" from the education system. He also found himself distracted and falling behind in his studies as he struggled with a difficult situation at home.
"I'll admit, my grades weren't great," says Dorian. "But I'm still determined to save what's left of my education."
Two years ago, he was introduced to the Spence Neighbourhood Association (Spence) Homework Club. During the after-school program, he was able to catch up on his school work with the help of a mentor.
Spence's Homework Club is designed to provide accessible support and mentorship to at-risk youth, enabling them to succeed in and beyond the classroom. First, students are assessed to identify their learning needs. After the assessment, profiles are configured on a software platform that matches students with suitable mentors. The match identifies mentors with the strongest compatible skillset to help students overcome their academic challenges.
"We know kids in this neighbourhood don't always have the same opportunities as others," says Jamil Mahmood, Executive Director at Spence. "The education system doesn't work for everyone, especially in the inner-city. We can't change the system overnight, but we can impact how youth relate to it."
Spence's youth programs were initially developed in response to a need identified by their safety committee. The volunteer group noticed many young people in the neighbourhood were skipping classes, hanging out in back lanes and committing petty vandalism. The first youth programs sought to encourage these young residents to focus on building relationships and take pride in their community. What began as one after school club has since expanded to eight different programs supported by almost 20 staff.
These youth programs are tied to Spence's core mandate, which is to address broader systemic issues that affect Winnipeg's West Central neighbourhood. By focusing on five core improvement areas, the organization helps minimize the detrimental impact of poverty and community trauma.
"We have conducted extensive community consultations to better understand how residents want to see this neighbourhood develop," says Jamil. "Our job is to make that happen."
Spence is also committed to being agile and responsive to the urgent needs of its neighbours. For example, West Central residents were growing concerned as violent conflict on the streets started taking young lives. In response to these tragedies, the organization opened up a 24-hour safe space that now shelters and protects over 50 youth every night.
"Spence Neighbourhood Association serves the heart of Winnipeg's inner-city and has a profound impact on the lives of the most vulnerable youth in our community," says Dave Johnston, Chair of the TELUS Manitoba Community Board. "We're proud to partner with a charity that seeks to empower youth by connecting them with real people who truly care about personal growth and individual success. Thanks to TELUS' generosity, our board members are able to support grassroots initiatives that strengthen neighbourhoods in need and make a lasting difference in the lives of young Manitobans just like Dorian."
​
With grant funding from the TELUS Manitoba Community Board, Spence was able to expand their Homework Club program and mentor more youth who were excited to take control of their education and futures.
Today, Dorian is only a few classes shy of completing his high school diploma. After graduation, he looks forward to conquering his next challenge: starting a business, joining the military or becoming a musician.
"By providing a small incentive or support to a child, we can change their life," says Jamil. "We have hundreds of stories about kids who have gone through our programs and are now doing amazing things. All it took was one person who cared enough to make a difference."
Do you know a registered charity helping Manitoba youth succeed?
​With support from the TELUS Manitoba Community Board, charities are eligible to receive up to $20,000 in one-time grant funding for a new or existing grassroots project. The next application deadline is January 15, 2019. To apply online, visit community.telus.com.