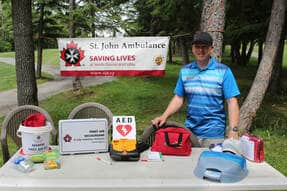 ​When you hear the words, 'business meeting,' what do you picture?
Would it be safe to assume a cold, stuffy board room just popped into your head, filled with suits and ties and dull tones of voice?
Get out of the office for the day and out into the sun to join us for our 29th annual Chamber Classic Golf Tournament coming up on June 5.
"The Chamber Classic is a fantastic way for us to network with other community minded companies," says Bryan Wall, business development manager with St. John Ambulance, a hole sponsor of The Chamber's past two tournaments. "Where else could we find the opportunity to have four potential customers visit our sponsor hole every 20 minutes, play a game with them and share some laughs. It's a great way to get out of the office and meet customers in a friendly environment."
​
Registration and sponsorship opportunities are available now but limited, so reserve your spot today!
---
The Chamber Classic

Wednesday, June 5, 2019


Pine Ridge Golf Club
​10:00 a.m. – 7:30 p.m.