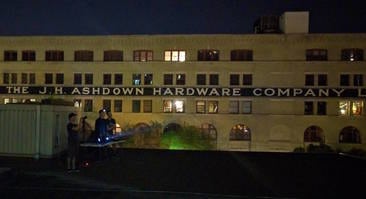 Look up. There are close to 150 fading hand-painted ads on the sides of buildings across downtown Winnipeg. Ever wonder about their history? Each one tells an amazing story about the products, services and brands that called this city home — most of them before the tallest buildings, paved roadways and even traffic lights lined the streets.
As an urban archeologist, I couldn't help but become fascinated by these incredibly intoxicating signs — some fading into the past and others boldly perched high up on our city's skyline. Over the past few years, I've devoted most of my free time to researching the collection of vintage ads in the historic Exchange District. It became a welcome obsession, and I quickly realized I wanted to bring the history and delights of these amazing artistic creations to a broader audience.
This summer, I realized my goal by organizing an event called Painted in Light, which brought some of the signs back to life in dramatic fashion — by enveloping those buildings in graphic illuminations after the sun went down.
Events like this can be moving, educational and inspirational, but they take planning and commitment to pull off. Trust me, I had more than my fair share of excitement and scares to get Painted in Light off the ground.
With special events, you're bound to hit roadblocks and obstacles every day, so I decided to share my story along with four important lessons I learned along the way.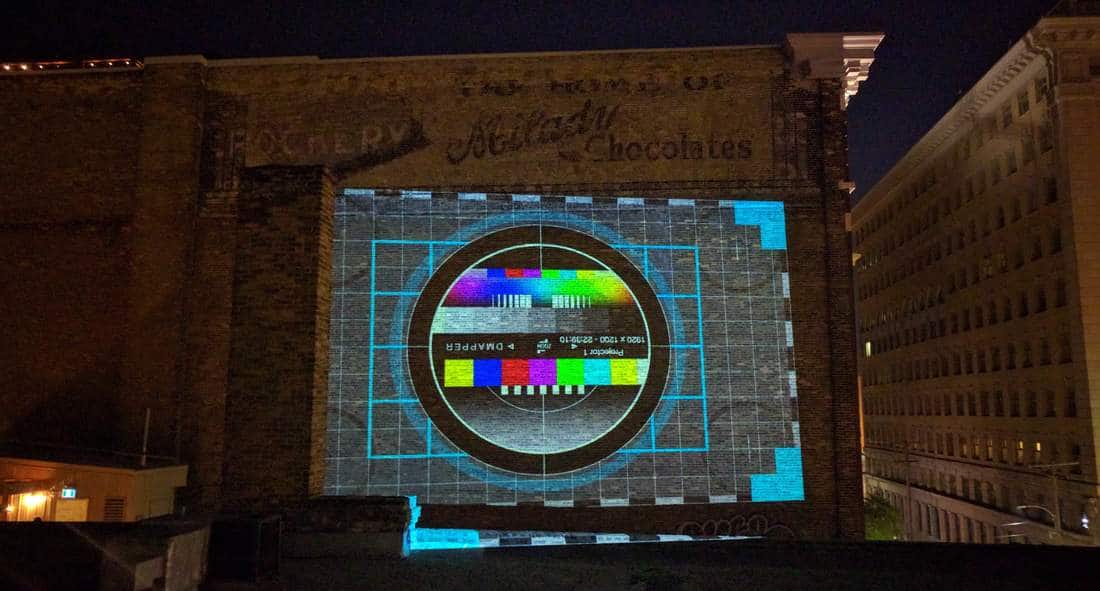 1. Call in the pros
There was no way I could have pulled off such an elaborate event on my own, and I was going to need the expertise and assistance of someone already in the field — so I called for backup. Fortunately, someone amazing answered the call.
That person ended up being my new project partner, Craig Winslow — an experiential designer from Portland, Oregon. Craig uses projection mapping to recreate ghost signs on buildings across the US, UK and now, Canada. But before he got involved with Painted in Light, I needed to pitch him on the project.
I reached out to Craig at the tail end of his year-long Adobe Creative Residency to talk about bringing his work to Winnipeg. Even though he had spent the previous year travelling across the US and UK to illuminate dozens of similar signs, he had never done multiple ones at the same time on the same night. Luckily, Craig said yes. That's how, on the last night of the Winnipeg Fringe Festival and first Saturday of the Canada Summer Games, five ghost signs were revived to their former glory.
His process was time-consuming and exceptional. First, Craig took pictures of the fading ads to get a starting point he could manipulate with software. He then entered the digital world of bringing the signs to life — vectorizing the letterforms in Adobe Illustrator, creating animations in After Effects and then projecting the images back onto the original wall with a program called MadMapper.
The lesson? Events require planning, process and expertise. Even when you know your stuff, call in other pros wherever possible. Extra sets of hands are always helpful and will only add to the success of your event.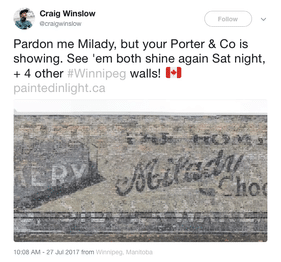 2. Uncover something special
Not all of the signs chosen for Painted in Light were immediately apparent.
Contrary to what you might think, most of my research isn't done poring over old books in a dusty archive. It's done with a browser and an Internet connection where I search for photos by names, streets and events. But rather than looking at the subject, I scan the buildings in the background for traces of signs that have long since disappeared and use these pictures to help transcribe the layers.
The first two signs I chose are called 'palimpsests' — a technical term used to describe a location where multiple signs are painted overtop of each other. As the years and elements weather down a sign, the original layers begin to ghost through. Archival research helps to peel back the layers of time to help see what the signs look like freshly painted.
Thanks to sites like eBay and Etsy, my research didn't have to end with pictures. Over the years, I've been able to track down the actual retail products advertised on the sides of buildings. In the case of the third sign, it's a scale reproduction of a can of SX ham, and I actually bought a can a few years ago. Having the physical product on hand, Craig was able to use high-resolution pictures of the can to create an interactive 3D model.
The lesson? Give your event a bit of wonder and mystery. Revealing something special to your audience will make them feel like they'll never experience something quite as unique — and that will keep your event and brand forever in their memory.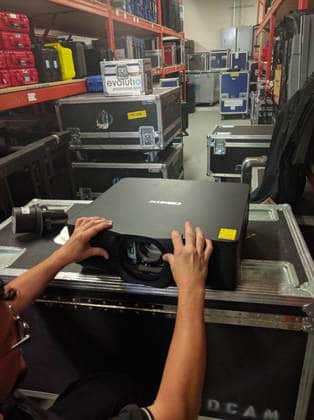 3. Use the new tools of the trade
Once the building sites were selected, the logistical challenges started.
We needed to figure out the technical aspects of projecting huge images across vast distances, including determining the size of each sign. That brought forward a new challenge — getting access to building rooftops and permission to project on their buildings.
Thankfully, Winnipeg's Heritage Conservation department has full building histories online, including architectural specifications, which helped determine sign dimensions. Knowing the size of each sign helped us select the kind of projectors and lenses that would be needed to turn them into stunning illuminations. All of this reliable online documentation and research paid off with saved time.
To figure out the projector setup, resources like Google Earth allowed us to scan the city's skyline to get a 3D perspective shot of each location without having to access a roof. In fact, I was able to gather all of the info I needed without climbing a single staircase.
In addition to the technological challenges of the signage itself, overseeing five site setups and coordinating a volunteer team of 15 people made this event particularly challenging. Google Drive became my best friend over the two months putting the night together. Sheets with ongoing to-do lists, volunteer schedules and important phone numbers were continually updated to ensure that the night would go off without a hitch. Stored in the cloud, these list were always easily accessible from my phone — at any place and anytime.
The lesson? Organization before, during and after the event will be your saving grace. With so many moving parts, you need to keep track of everything in one place and have it be accessible wherever you go — especially if your event is off-site. Make use of all the technology at your disposal that can turn an insurmountable task into an achievable activity.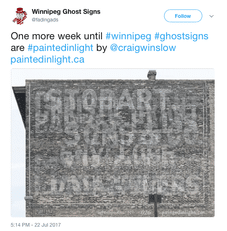 4. Make real-life connections in a digital world
Almost every aspect of our project was researched and executed digitally. Through email, phone and Google Hangouts, we planned the entire event without ever being in the same physical space.
The actual event was a whirlwind. Craig arrived in Winnipeg on July 27, the event was held on July 29 and less than 70 hours after he landed, he was on a plane back to Portland. All of our digital planning and communications allowed us to keep priorities in check and schedules on time.
Even something as simple as a website brought to life far-reaching connections. Within a few days of launching paintedinlight.ca, the son of one of the sign painters reached out by email and put me in contact with his father. He was now 89 years old and living in British Columbia, and he shared his experiences as a high school summer intern working at Universal Signs.
A few days after that call, former employees and owners from Robinson and Webber (signs four and five from the projection night) reached out to say they were coming in from two provinces over to see the event in person. These moments made this one of the most rewarding experiences that I've ever been a part of.
From start to finish, the projections only lasted two hours, but we had spent months of planning and years of research leading up to those moments. Now, the event lives on through articles like this one, social media hashtags and digital archives.
The lesson? Digital communications can create the most unexpected and memorable aspects to your events — for you and attendees — so make use of them. Create an event site, hashtags and social media posts to advertise and promote. Listen closely to the online chatter and capitalize on those conversations — before, during and after your event. The hard work will pay off with a long-lasting impact.
Matt Cohen is a creative director at Metric Marketing, urban archeologist and the driving force behind 

ghostsigns.ca

. Since 2014, he's been documenting and promoting Winnipeg's fading promotional signage through Exchange District walking tours and most recently, a 

TEDx talk

.