On Thursday, Oct. 4 Scott Sissons, Partner at KPMG LLP,  will assume the role of Board Chair for 2018/19. Before his swearing in ceremony at our Annual General Meeting on Oct. 4, we asked Scott a few questions to help our members get to know him better.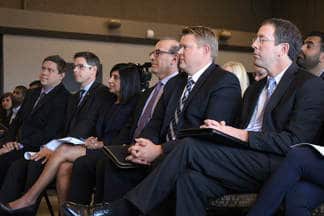 What's your business background?
I'm an accountant by trade- I started with KPMG in 1997 and obtained my Chartered Accountant Designation (now Chartered Professional Accountant) and am a partner within our audit and assurance practice. Other than spending 2 years in Denver Colorado with KPMG, I've been in Winnipeg for the entirety of my career.   I'm extremely fortunate to have a great variety of clients, private and public entities, not-for-profits, government entities and others.
What's the one thing everyone needs to know about The Chamber?
That The Chamber can bring un-paralleled value to business of all sizes and types in Winnipeg. I look at my personal client base from small start-up enterprises, to not-for-profits, medium sized growing companies, to large established corporations and there is something of value we bring to all of them. We are lucky in Winnipeg to have an amazing team working with purpose and passion at The Chamber.
What's the best business advice you've ever received?
Be genuine and really try to be someone of low self-interest, whether that's interacting with clients or in the community.
What would people be surprised to learn about you?
That accountants do have a sense of humour!
What's your favorite thing about Winnipeg?
The diversity we have in the city and the roll up your sleeves and get it done mentality.
What are you looking forward to most about your year as Chair?
Meeting as many people in the Membership and community as possible and helping to drive forward the Chamber's mission of helping Winnipeg business prosper. The business environment is being disrupted so quickly by a variety of forces, and I really feel the Chamber can support our Member's success.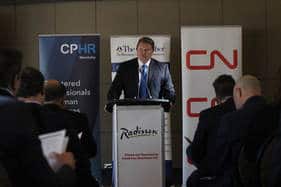 Tea or coffee?
Coffee –black
Cats or dogs?
We have a cat at home but I'm going to call it a tie. Growing up on a farm we always had dogs but I haven't had one since moving to Winnipeg.
Top movie of all time?
Shawshank Redemption-  other personal favourites are Old School, Fight Club, and Casino.
Stuck on an island, what are your three must-haves?
Assuming I magically have electricity I'll take all the The Hip albums, a very large cooler of refreshments, and a comfortable chair and I'm good to watch the waves crash in.
Winnipeg's best-kept secret?
People rightfully love to extoll the virtues of our diverse food scene, but for me I think our craft brewing industry is blowing up, but is still somewhat of a secret. The number of new and inventive craft breweries in the last couple of years is astounding.  I would really love to see more attention to this in our local restaurant and hospitality industry to help these local artisans thrive.
My BOLD idea..
I would love to see Winnipeg as the most diversified economy in Canada. We need to revamp the Canadian system in terms of tax reform for fiscal incentives. It is currently way too complex and inefficient.
Annual General Meeting
Thursday, October 4
​11:00 a.m. – 1:00 p.m.
Radisson Hotel​FREE TO ATTEND | LUNCH INCLUDED
​Exclusive to members only