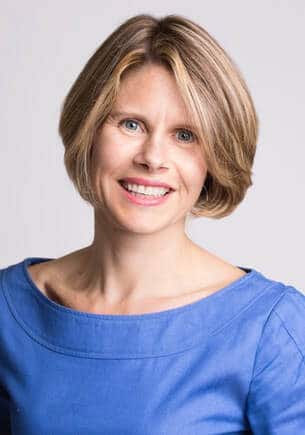 After graduating from university – an achievement that should bring excitement and opportunity – one of the first things Tanya van Biesen, executive director of Catalyst, remembers encountering was gender inequity in the workplace.
"My very first job coming out of university, I was hired, offered a starting salary, and what I came to realize over time was that my starting salary was 10 per cent lower than at least one peer that I know of, because that peer, who was hired into the exact same job, at exactly the same level, in exactly the same company, is now my husband. And we started at the same time," van Biesen says.  "To be frank, at the time, I didn't interpret it as some kind of a gender wage gap, I was still young and idealistic and I just thought, 'Hm, I just need to work harder.'"
That hard work eventually led her to the global executive search company Spencer Stuart, where she worked for more than 20 years – including leading its diversity practice – before making the decision to join Catalyst in 2016.
"Increasingly I was seeing this persistent glass ceiling, these persistent barriers facing women," van Biesen says. "So despite the fact that for the last 25 years plus in Canada, women have earned 58 per cent of university degrees, year over year over year, the number of women CEOs was somewhere in the three to four per cent range. We could just never seem to pierce through it, and we still haven't.
"So I just started to think, 'How can I make a bigger impact?' What is it that I can do to actually start to impact these numbers and these outcomes, and that was why I made the decision to move over."
Working directly with organizations, van Biesen and her team's work happens at two levels. Systematically; identifying and extracting biases from policies, practices and processes, and culturally; bringing awareness to inherent biases, understanding of why they're there, and introducing behaviours that can interrupt them.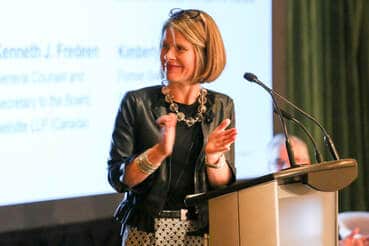 ​"There's now so much research that shows that the more diverse your organization is, the more you will generate positive outcomes as it relates to talent, so being more successful at attracting and retaining talent," van Biesen says. "As well, more success around innovation and productivity, so just group performance. We also see enhanced outcomes around reputation and this whole topic of corporate social responsibility. And finally, enhanced outcomes in financial performance. So those four areas are really the 'why' of why this matters.
"If you look at a normal distribution curve of who is coming out of schools today – universities, trade schools – women represent a huge proportion of those graduates. And if we are not giving them access to opportunities and cultivating their progression and advancement through organizations, and you end up at the top with this tiny proportion of women, then, by definition, you don't have the best talent."
But it's not all doom and gloom. A self-described optimist at heart, van Biesen says she's encouraged by the progress she's seen over the past decade, qualifying that statement with an assertion that we still have a long way to go.
"There is still a lot of work to be done for women in this country, most notably on things like closing the gender wage gap, having access to affordable child care," she says. "For women of colour and Indigenous women in this country, we still have a very long way to go to recognize their full participation and opportunity to advance in our communities and our societies.
"There are three things that I'd really like to see. One is that this whole discussion of diversity and inclusion becomes embedded into the talent management strategies of every organization in Canada. The second is that all women, regardless of race or ethnicity or sexual orientation, have a fair shot of advancing in Canadian workplaces. The third is that we close the gender wage gap. We've stalled out on the gender wage gap, and that's something we need to close. In an advanced economy like ours, and a progressive society, that is something that is inexcusable."
Van Biesen will be the keynote speaker at The Winnipeg Chamber of Commerce's Membership Luncheon coming up on November 19, and is looking forward to bringing her message of equality and inclusion to the city's business community.
"I am going to talk about the importance of women in the workplace, and the current state of where we are in terms of women leadership in Canada," van Biesen says. "But then I'll also take a more forward-looking view on this technological revolution that we find ourselves in, and what that means for the workplace going forward, what that means for women in the workplace.
​
"There's individual accountability to make societal change happen. And so what I want to leave people with is that sense that we all have a role to play."
---
Women on Board


with Tanya van Biesen

Tuesday, November 19

Manitoba Museum – Alloway Hall

11:30 a.m. – 1:30 p.m

​$57 +GST