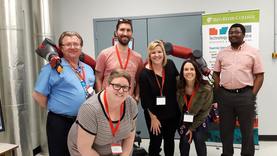 Today I stand taller, braver, more knowledgeable and grateful.  I drank the Kool-Aid and it leaves me wanting more.  A back stage pass to our city,
Leadership Winnipeg
is a 10-month course that takes you on an impactful journey through our city's greatest treasures, while meeting our most notable leaders, innovators and change-makers from all sectors.
Having a standing passion for non for profits and charities, I wanted to explore and connect myself with the unfamiliar. This program provided me a real opportunity to evaluate, learn, practice and evolve on my journey. The daylong sessions (once a month) left me encouraged and at times overwhelmed.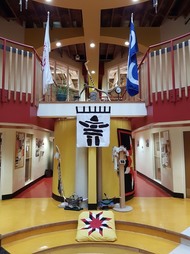 Our class shared stories of vulnerability and many of us were emotional. We admitted that we had blind spots preventing us from fully identifying with our city.  Most of us merely "existing" in our city rather than "living" in it.  This program changes your way of thinking and challenges your beliefs for the better.
Our session program featured the following 10 sessions:
​
Personality Profile – Tom Carson, Insights Discovery
Government House – Met her Honour the Honourable Janice C. Filmon, C.M., O.M.,Lieutenant Governor of Manitoba and also had intimate discussions with Cindy Tugwell, Michael Redhead Champagne, Mariette Mulaire and David Johnston
Tour of the iconic Canadian International Grains Institute
Governance Training and presentation from Volunteer Manitoba / Personality Profile continued
Presentations from Canadian Centre for Policy Alternatives MB, BUILD, MITT, LITE, AKI Energy, Social Enterprise MB, CEDNET, Spark and Urban Circle Training Centre
Tour of the Immigrant Centre, Welcome Place, Holy House of Peace and presentation from Islamic Social Services Association
Participated in a Smudge and Teaching Circle at RRC. Research, Partnership & Innovation Tour of RRC and Role of Red River College in the community with Paul Vogt
Presentation from Dr. Stephen Borys and tour of WAG. Also heard from the Visual and Performing Arts panel and Cultural Industries panel.
Manitoba Technology Accelerator and North Forge.  Tour of the Winnipeg Airports Authority
Program experience, presentation on team projects and Graduation with the dinosaurs at the Manitoba Museum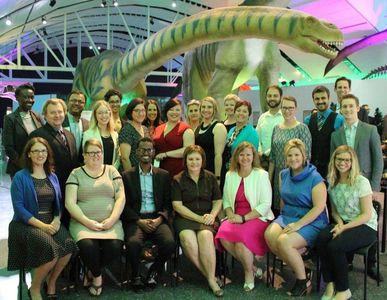 Leadership Winnipeg
 has redefined the boundaries of learning to create an experience with so much intent, emotion and creative frameworks.  A guide to create your own personal leadership development plan, and make an impact right here in Winnipeg.  For anyone looking for a transformational challenge, this program was practical, useable and so impactful.
Thank you to Doneta Brotchie, Winnipeg Chamber of Commerce, Volunteer Manitoba and the vision sponsors for your hard work and support.  Endless appreciation to my committed colleagues who will challenge the status quo and pioneer new ways of thinking.
---