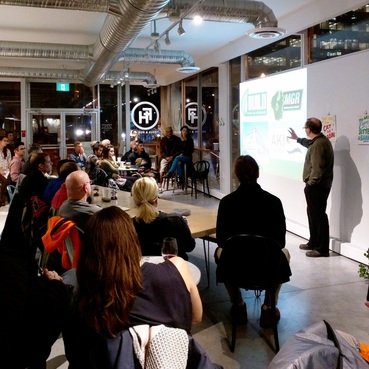 In spite of blizzard conditions, we had a full house for last Tuesday's social entrepreneur gathering at Fools & Horses. The event, hosted in partnership with Social Enterprise Manitoba and Transition Winnipeg, was structured to bring together entrepreneurial communities that don't often get a chance to mix, including the social enterprise, business, and environmental communities.
What's a social enterprise? 
A social enterprise is sometimes defined as a non-profit that generates revenue through a for-profit venture. More broadly, it can also refer to commerce that puts social and environmental outcomes at the core of doing business. The Chamber's BOLD platform calls for Winnipeg to become the social enterprise "capital of Canada."
Format and selected presenters 
The evening primarily consisted of informal networking and mixing, but it started off with an opportunity for a select few initiatives to present their concept or business to the audience. A number of submissions were made and the best ones were chosen to present. For this round, we targeted job opportunities for those facing barriers to employment, as well as low-carbon initiatives.
Each initiative had about six minutes to present in a "Pecha Kucha" style, where presenters would verbally narrate 20 graphic slides timed for 20 seconds each. First, we heard from Kelly Kuryk, the Program Manager for Compost Winnipeg, about their inititaive to collect business and household orgnanic waste and ensure it is responsibly composted. Andrea Villeneuve then presented "Level IT Up," an information technology program designed to build pathways to employment for people with intellectual disabilities.
A focus on northern communities
The final two presentations were concepts focused on improving wellbeing in northern communities, including a concept by architectural Master's student and former nurse Nancy McKinnon, who calls her idea a "Smart House for the North." A similarly-themed concept was presented by Sean McKay of the Composites Innovation Centre, but his concept is intended to facilitate learning and food production in the form of a classroom and greenhouse. Mother Earth Recycling also made a successful submission but couldn't make it due to the weather.
A "live think-tank"
The format drove a lot of great conversation following the presentations, propting some to label the evening a "live think-tank." Some of the conversations about the two northern initiatives were particularly productive, encouraging connections between a number of stakeholders working on similar ideas.
Stay tuned for future events designed to drive meaningful community conversations…