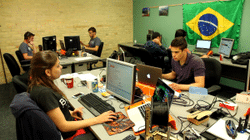 ​Start-ups looking for technical support have an option in the heart of Winnipeg: a term as Entrepreneur-in-Residence at Red River College's ACE Project Space.
The Space connects RRC's Business Information Technology (BIT) and Business Technology Managements with entrepreneurs who have real world projects needing IT support. Each project is reviewed by college staff to make sure that it meets the department's standards, time frame and challenges the students.
"The projects need to fit with the students' fields of study," says Haider Al-Saidi, Chair of the Accounting and Computer Education department. "So far we had 16 successful projects and entrepreneurs go through the space."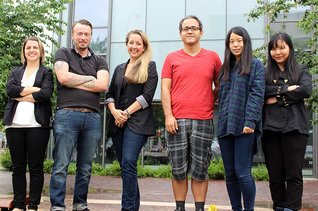 ACE encourages start-ups and entrepreneurs to come forward with proposals for projects for students where ACE instructors typically act as the project managers and the advisors for the students. ACE instructors also advise the start-ups on the project itself to make sure the organization has considered the market needs and the impact of the project on the organization.
"Haider and his team are very pleasant to work with," says Winnipeg Chamber member Sue Leclair, who was Entrepreneur-in-Residence with her business Peguin + Stone.  "I have all the respect in the world for their team and what they do and am proud to be able to be a part of it."
It is a win-win situation where the students will work on quality projects that will have a definite impact on the organization. At the same time the organizations benefits from the relationship developed with ACE instructors and staff who are more than willing to give directions on best practices and on developing a long term business strategy that fosters and encourages innovation.
Benefits to students
Students work on quality projects that will have a definite impact. They work in teams using the latest technologies to create real, innovative, and meaningful projects that they can later showcase to future employers. Students work closely with industry leaders, innovative start-ups, and college instructors to advance their skills in their chosen field.
Benefits to Entrepreneurs-in-Residence
Students know the basics of many technologies from their studies in the BIT and BTM programs including: application development, web development, networking, and database development. BTM students will also have skills in business analysis, design, and management practices. Students are interested, enthusiastic, and engaged workers and are excited to experience developing a real project while working with an equally enthusiastic entrepreneur.
By participating in the ACE Project Space, entrepreneurs and start-ups benefit from the relationship developed with the ACE Department instructors and staff.  The ACE team is more than willing to give direction to entrepreneurs on best practices and on developing a long term business strategy that fosters and encourages innovation.
How do I become an Entrepreneur-In-Residence?
Entrepreneurs who best fit the ACE Project Space require a technology related solution that can include analysis, design and creation of a software application. These projects can include:
creation and development of websites and databases
providing an online presence to market a product or service
developing a mobile application
Students working on projects in the ACE Project Space will be using Agile project management, so entrepreneurs familiar with Agile would be a good fit. Entrepreneurs-In-Residence must be willing to mentor students and encourage them to pursue their own ideas and to become future entrepreneurs.
For more information or to get involved contact the ACE Department at 204-949-8498 and/or attend an open house on April 7 at The Ace Space on the fifth floor of 321 McDermot Ave.