Sponsoring an event is a great way to promote your business. Sure, it's great to tell us about your company when you take the stage, but there are more ways to keep event attendees engaged when you step up to the podium.
Here are 5 stage tips for your next sponsorship:
| | |
| --- | --- |
| 1. Play a Video | ​At events with numerous speaking opportunities, the audience is often left craving something different. A video on your company can provide a much-needed change of pace, which re-invigorates the audience's attention. |
2. Tell a Story
Stories are a great way to connect. They tell people what your company is all about without sounding like a pitch. A well-told, engaging story impacts attendees and gets them thinking about your organization.
3. Give Advice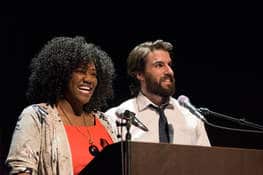 Instead of pitching your company, provide a piece of business advice based on your organization or speaker's expertise. Providing advice makes you more accessible for networking and can lead to real connections.
5. Add to the Topic
​What is your company's connection to the event's topic? What expertise can you add to the topic? Providing a tidbit of information and educating the audience frames your organization as an expert in that field and promotes your brand very positively.
To learn more about sponsorship opportunities, or to be a part of our event programming, you can contact our VP of Business Development, Jon Goodspeed.
​
Email:
[email protected]
Phone: 204-944-3312