Written by: Krista Law
Last month, the Canadian International Grains Institute (CIGI) hosted Leadership Winnipeg.  Our sessions for the day focused on agriculture in Manitoba and the role it plays in our economy. Like some of the afternoon presenters, I grew up in the city but have always felt a strong link to agriculture.
My mom comes from a small farming community in Southwest Manitoba and I spent many weekends, summers and holidays on my grandparents' farm growing up. I saw my uncle struggle through the 80's when interest rates were high and precipitation was low. I know that he almost lost the farm in those years, and because of that, had to change the type of farm he runs from grain to cattle. I've seen the success of that new model grow to a thriving cow calf operation and supply business that my grandfather would never have dreamed of. I also saw my cousins, encouraged to come to the city for post-secondary school. Farming is hard, not a career for everyone.
​In recent years I've seen two of my cousins move back to the farm in their mid 20's, school behind them. Neither took agriculture in school, but both felt the pull back to the farm and have begun endeavors of their own in the sector.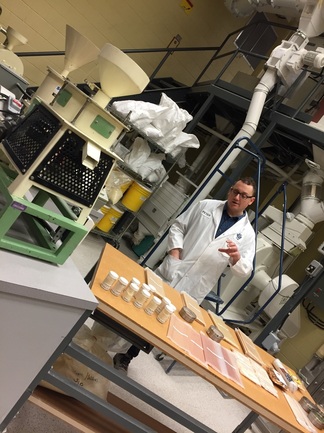 The November Leadership Winnipeg session included a tour of CIGI.
I've felt as though witnessing this and knowing more about farming than the average city dweller has been a privilege. I know that not everyone knows where their food comes from, and many people don't care. The day at CIGI really opened my eyes to the size of this industry in Manitoba beyond the modest operations of my family. Perhaps the most encouraging part of the day for me was learning about Agriculture in the Classroom, the non-profit agency bringing accurate, balanced and current information to schools full of children who may not have the opportunities I've had to learn about this world and its importance in our daily lives.
It was also so encouraging to meet other young farmers entering or sticking with the industry despite the challenges it may present. Learning about the leadership in this sector that may sometimes be viewed as old-fashioned really made me think, about my family, my community, and what contributions I would like to ultimately make in this industry.
Leadership Winnipeg is a series of day-long sessions, held once a month, are hosted in the community and focuses on a theme. The sessions include tours and guest speakers, plus an opportunity to interact with those speakers. The program is primarily learning by experiencing as opposed to textbook-based learning.