"After centuries living at high altitude, the Sherpa population of the Himalayas have evolved to master the ability to survive in this atmosphere." (Meera Senthilingam, CNN).
For mountaineers tackling the highest peak in the world, a skilled, acclimatized guide isn't just valuable – they can be lifesavers. The key is letting the Sherpa know as soon as possible if a problem arises so they have time to act accordingly and make sure you both survive the climb to the top.
The recent "Everest" Legacy Bowes Group has been asked by clients to assist them climb is in the area of Strategic Business Advisory Services. Terry Brown is excited to lead this area as one of the newer partners of the firm. With the other partners, the skilled team at LBG and his 20 years in business – dealing in the high levels of business with entities ranging from multinationals to local governments – Terry charts a path that echoes mountain climbing: clients have climbed higher and higher and Terry has been that guide.
Eleven years ago, with the introduction of a new partnership between Barbara Bowes and Paul Croteau – an executive search professional – our firm became the now well-known Legacy Bowes Group, assisting others in navigating the "people side" of the business. Our clients ask us to assist them in the areas of Human Resources, Executive Search and Recruitment, Career Transition, Leadership Development and Strategic Business Advisory Services. We thrive on providing guidance to our clients – one person at a time.
Essentially, we fix problems related to dollars and people. We provide customized, high-level advisory services for both governments and businesses ranging from start-ups to multinational corporations. We help with business planning/strategy, project development, mediation/negotiation services, human resource management, leadership mentoring, grants, and funding, as well as networking to our wealth of industry specific connections.
We have a significant Indigenous Advisory practice where we specialize in bridging communication between Indigenous entities and governments with mainstream business and mainstream governments.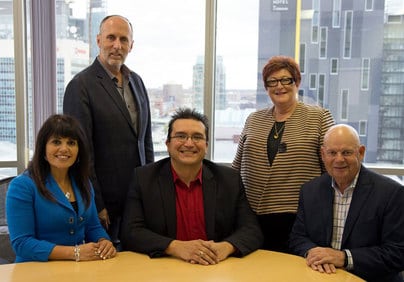 Having worked alongside a countless number of Chiefs & Councils for over 30 years, we have built a reputation founded on trust and mutual respect with both First Nations and the Metis. Our experience, and our Indigenous cultural knowledge are what make us experts in helping clients achieve organizational effectiveness and financial stability. Furthermore, we believe in the importance of providing cultural awareness education to the mainstream community and can assist in taking advantage of shared opportunities by connecting you with the right people in our vast professional network.
For firms without an HR manager, we still provide hourly ad hoc advice on how to deal with difficult situations ranging from addiction to coaching to termination. Legacy Bowes Group leads this through Barbara Bowes' almost 30 years experience handling those difficult situations. For firms who have a full HR Team, we will also be there to assist in Career Transition Services for times when tough people decisions are made that impact long term and right sized  employees..
When you know there is a problem but you just don't know how to define it, we also offer Organizational Review services focused on identifying the good, the bad and the ugly from a combined legal, financial, and people perspective.
Finally, successful negotiation requires experience and strategy. The Legacy Bowes Group team offers negotiation services and mediation services designed to put you in the driver's seat to ensure you gain a strategic advantage.
We are always open to having a discussion about your challenge/opportunity and giving you the honest advice if we can help or at least point you in the right direction. Don't climb Everest alone!