Written by Tineke Buiskool-Leeuwma, Director of Marketing, Events & Communications, Downtown Winnipeg BIZ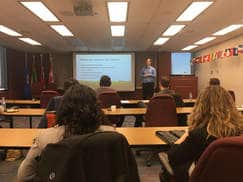 Simon Ellis of Ellis Farms explains farming in 2018.
As a self-described "Farm Girl" who cleaned grain bins and drove the 13-speed grain truck on the farm I grew up on, I thought I understood agriculture but my appreciation for the industry has grown so much because of our Leadership Winnipeg tour and experience at the Canadian International Grains Institute (CIGI).
With 19.83 million acres of land with animals or crops in Manitoba, one in eight Manitobans have a job directly related to the agriculture industry. Food processing, trucking, research and development, and so many more jobs compliment the hard work of the farmers and producers who are working in this massive economic industry. Ag production in Manitoba includes hogs, canola and wheat as the top commodities, in addition to all of the other grains, pulses and animals.
Innovation also plays a huge part in Canada's agriculture community with technologies and knowledge, and this is so important for our future. Did you know that the global population is growing so much that by the year 2050, we will need to have increased food production by 70% to feed 9.7 billion people?
Without the important research, including what is done here in Winnipeg, we wouldn't be able to maximize opportunities for food production. For example, canola (Canada-oil) was created in Manitoba and Saskatchewan as an alternative crop, a cold weather crop, for Western Manitoba. When I'm driving highway 2 out to the farm next summer and see those beautiful yellow fields, I know I'll have extra appreciation for more than just the beauty knowing that this important crop is a made-in-Manitoba product.
It's obvious to see how people are passionate about this industry. The staff at CIGI and all of the presenters, who all shared what they do with us with so much enthusiasm, proved that what they do is more than a job; it's a lifestyle and a calling.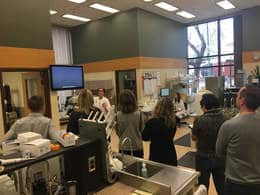 Inside the flour lab at Cigi.
CIGI itself is a fascinating place. With 38 staff (who speak 17 languages), they are providing pre-market and in-market technical support for the Canadian grain sector, working with the grain industry value chain both locally and internationally. The hands on experience and tour takes you through the bakery, analytical services, the noodle Asian products facility, pasta area, and the highest elevated mill in North America (11th floor). The staff at this hidden gem in the heart of downtown Winnipeg, is researching, testing and marketing Canadian wheat, actively connecting our wheat with buyers to over 70 countries around the world.
And that passion is also being shared with our future generations. Thanks to organizations like Agriculture in the Classroom, the next generation is learning all about the industry with creative, hands-on experiences.
I encourage everyone to connect with the agriculture community in any way that you can, whether it's supporting local producers, learning more about the industry at CIGI, volunteering with Agriculture in the Classroom, or spending some time talking with a farmer or producer!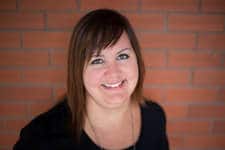 ​Tineke Buiskool-Leeuwma
Director of Marketing, Events & Communications
Downtown Winnipeg BIZ
Leadership Winnipeg
Shaping tomorrow's leaders today

For over a decade, The Winnipeg Chamber of Commerce and 

Volunteer Manitoba

 have partnered together to offer Leadership Winnipeg, a 10-session leadership program (plus class project), which runs from September through June. The program provides experiences that inspire and help individuals to develop an understanding of themselves, their community and their role within it. ​