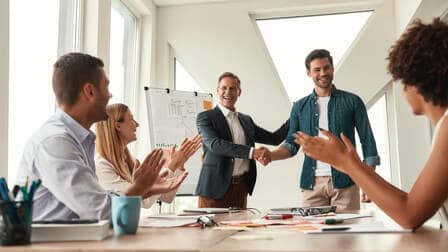 ​Every year, more and more businesses are seeing the tremendous upside of implementing a Return to Work program in their workplace.
There are a variety of reasons.
​For some, it's primarily financial. Return to Work is good business. It minimizes WCB claims costs, it can reduce the cost of training replacements and can help maintain productivity.
For others, it's legal. There's legislation around re-employing injured workers that applies to organizations with more than 25 workers. They do it to remain compliant.
More often than not, it's moral. Employers feel a duty to their employees and are compelled to help them get back to work as quickly and safely as possible.
What many employers are also discovering… is that a lot of workers see the value in it as well.
Having a program in place that anticipates how to deal with a workplace injury ─ in a manner that makes workers feel appreciated ─ is an excellent way to increase engagement and remind them that they are a valued member of the team.
"Business owners are starting to see the strategic advantage that a Return to Work program can provide in recruiting and retaining workers," says Dan Holland, Vice President, Compensation Services, WCB.  "They are realizing that if they are safer and support Return to Work, they can attract and retain workers in the competitive labour market. At the same time, they are maintaining productivity, enhancing team dynamics and improving workplace morale."
Each workplace and worker is unique. Therefore, Return to Work programs must evolve and be customized to meet the specific needs of individual workers and workplaces. Key principles based on participation, communication, responsibility, and early intervention help ensure the program's success.
"Return to Work programs lead to a faster and better recovery, help ease financial worries and help the worker avoid isolation by reconnecting to social networks," says Chris Poot, Manager, Return to Work Program Services, WCB.  "Medical professionals believe that Return to Work is a healthy and invaluable part of an injured worker's recovery as there is substantial evidence to support the positive link between work and physical, mental and social health."
An effective Return to Work program is one that is well-designed, communicated clearly and understood by everyone in the company. It must be well-implemented, maintained and kept current. It involves the employer, injured worker, healthcare provider and the WCB.
For Holland, the key is to have all four parties willing to do what it takes to return the injured worker to meaningful work.
"When all of the players are on the same page and the employer knows how to implement a safe and effective Return to Work, the process happens seamlessly," he says. "That's the goal and it's definitely possible."
To help organizations reach this goal, the WCB offers a free workshop strictly focused on helping employers create or enhance their program to ensure an injured worker can safely return to meaningful work. Called Return to Work Basics, the one-day course introduces the basic components and best practices of a Return to Work program.
For more information, contact Return To Work Program Services at ​204-954-6161 or toll free 1-855-954-4321, extension 3.