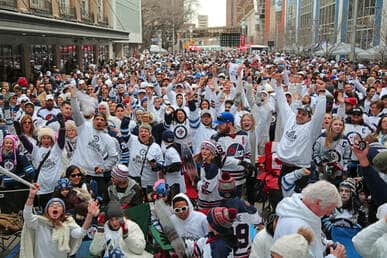 Although residents may not have enjoyed as many of them as they would have liked, the Winnipeg Whiteout Street Parties have come and gone for another year, this time giving back to the community along the way.
Building off the response and success of 2018's street parties, organizer Economic Development Winnipeg seized the opportunity this year to use the parties as a way to raise funds for United Way Winnipeg.
"The big thing we learned last year is that this is a great opportunity to sell Winnipeg, but we wanted to do more with it," says Matt Schaubroeck, corporate communications manager with Economic Development Winnipeg. "It's an opportunity to celebrate by giving back. We wanted to turn this into something that would have a little bit more of a legacy."
The three Whiteout Parties this year saw a total attendance of more than 30,000 people, raising over $160,000 for United Way Winnipeg.
"That will benefit our city for years," Schaubroeck says. "That was our biggest takeaway, is that this can be more, and we're very happy that this year it was."
While Economic Development Winnipeg is the key organizer of the Street Parties, it's not without collaboration from a multitude of local organizations. From logistics (Downtown Winnipeg BIZ, Smith Events, True North Sports and Entertainment) to security (Impact Security, Toro Security, King's Fencing) to food (A Little Pizza Heaven, Kyu Grill, Poutine King), the parties are truly a celebration of partnership and community.
"It's incredible to see a city come together to celebrate as a collective with fans of all ages and backgrounds in the heart of downtown," says Kate Fenske, CEO of Downtown Winnipeg BIZ. "When you see the number of people involved behind the scenes to make these events happen, you realize it's the strength of collaboration in Winnipeg that makes world-class events like the Street Parties possible."
"Everyone wants to help out because that's just what Winnipeggers are, that's what we do," Schaubroeck adds. "You have nine hours to set-up a party for 15,000 people, start to finish. You have the party – it's a Wednesday night – there's an after party, everybody goes home, you clean it up and tear down the fences, and then by the time the morning commute comes there's no disruption because it's all put away. That is… it's mind-boggling to me."
And although the Winnipeg Jets may have made their exit from the 2019 Stanley Cup Playoffs a little earlier than fans had hoped for, this year's Street Parties once more illustrated the energetic pride and deep sense of camaraderie Winnipeggers have for not only their NHL team, but for each other and their community.
​
"For Winnipeg, it's not just hockey; it's a culture or it's a religion," Schaubroeck says, chuckling. "So it's a lot easier to do this in Winnipeg than it is in Toronto or the sun belt down in the US, because this is what we live and breathe. It's not hard to get a Whiteout going in downtown Winnipeg because everyone already has a white Jets jersey."