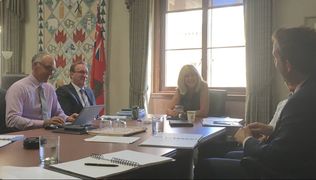 Climate change is real, and threatens the economic and social prosperity of our city and province. The costs are real, with estimates on the impact on Manitoba due to climate change being as high as $33 billion between 2010 and 2080.
The time to take action is now, and The Winnipeg Chamber of Commerce is not only part of the conversation, but leading it. Our carbon pricing policy provides several recommendations how to design a price on carbon.
We've engaged with both the provincial and federal governments on this important issue. We recently met with the Honourable Cathy Cox, Minister of Sustainable Development. Minister Cox and her department are leading the development of the "Made-in-Manitoba" carbon pricing plan and we stressed the importance of a plan that a) doesn't damage our competitiveness, and b) directs derived revenues toward accelerating the green economy as opposed to debt or deficit financing.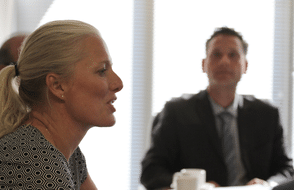 This week, we were also pleased to host the Honourable Catherine McKenna, the federal Minister of Environment and Climate Change. Federal department staff started the morning with a briefing on the federal carbon pricing backstop, which provinces will have to adopt if they do not develop a carbon pricing system of their own. Minister McKenna then participated in a discussion with Chamber members on carbon pricing, climate change, and associated business opportunities. It was a great opportunity for members to hear firsthand from the highest levels of the federal government.
While uncertainty swirls around the final form of the carbon price, you can be certain The Winnipeg Chamber of Commerce will continue to advocate for our members and our community as we face one of the defining issues of our times.