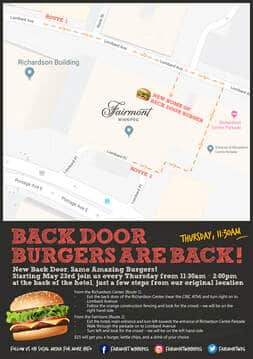 Backdoor Burgers is back, and this year it's bringing a smoky and delicious friend.
The Fairmont Winnipeg and VG Lounge restaurant are all set to bring back the wildly popular lunchtime sensation, and this year, burgers won't be the only fare served up, as 'Backdoor BBQ' makes its mouth-watering debut.
Backdoor Burgers has been around since 2012, the year now-executive chef Tim Palmer came on board, but has only gained the popularity it enjoys now within the past couple of years.
"It didn't get traction right away, but I'm so happy we stuck with it," Palmer says. "The idea of a luxury hotel opening its back door and selling burgers was kind of really cool. So we started getting a little traffic with the Richardson building and the surrounding towers, and we even had people driving in from Selkirk and Steinbach on Thursdays to get our burger. At that point we started realizing this is really picking up.
"Last year, the busiest day we had was with our 'Local 204,' our best burger that we've done so far; we sold 347 burgers, all with a side fries and a drink, packaged and ready to go out the back door for $15."
Backdoor Burgers runs once per week, every Thursday beginning at around 11:30 a.m., typically kicking off around the May long weekend mark (weather permitting). The gourmet burgers are all hand-made using fresh artisan ingredients, and often with locally baked brioche buns from Gunn's Bakery. The menu changes from week to week, with information posted the morning of on all of Fairmont Winnipeg's social media platforms.
This year, the backdoor of Fairmont Winnipeg will be opening twice per week, with Backdoor BBQ being offered every Tuesday.
"Earlier this year, I went to Austin, Texas for a conference, and when I got there I was so mesmerized and blown away by these smokehouses you can go to," Palmer says, explaining how Backdoor BBQ came to be. "So we have a smoker that we've created, and we do a 36-hour slow-roasted brisket, with traditional sides like smoked cheddar biscuits with mac and cheese. We're doing this all in-house, we'll be doing some porchetta butts, beef ribs, making our own smoked sausages.
"I've had to eat it all and try it, it's been a very tough process," Palmer says, chuckling. "We've been working on this diligently, and it's going to be the best barbecue you can get in this entire city, hands down. From the smoke, the cook on the brisket; it's going to be a talking point."
For those already familiar with Fairmont Winnipeg's backdoor delicacies, this year will see a slightly new location to acquire your lunch, due to construction in the area. But Fairmont Winnipeg is taking full advantage of the new location, and will have picnic tables available and music going, for those want to enjoy their grub in the sunshine.
For those on the run, Palmer says the team has ironed out the process to be as speedy as possible.
"We understand that people have a limited time to enjoy their lunch, so it's speedy, and we're ready for the crowds."