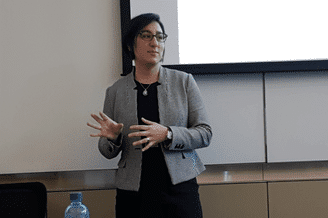 Noreen Mian, Executive Director of Volunteer Manitoba explains the roles and responsibilities of boards
Written by: Katie Krahn, First Person Strategies
Last month, Leadership Winnipeg participants got a crash course in board governance. The training was hosted by Volunteer Manitoba, a not-for-profit organization in Winnipeg that connects people with volunteer opportunities, promotes volunteerism, and provides leadership and counsel (including board training) in the voluntary sector.
We learned about different types of boards, roles and responsibilities of board members, the difference between governance and operational decision-making and board liability.
Like many Leadership Winnipeg participants, I've always been interested in volunteering my time on a board. I knew opportunities existed, but I wasn't sure where to start. Volunteer Manitoba's presentation – as well the incredible insights and experiences shared by Debra Jonasson-Young, Director of Executive Education for the Asper School of Business – laid out exactly what potential new board members need to know.
Find the right fit
If you have an area or cause that you're passionate about, that's a great start.  But don't stop there.  Think about how you want to contribute to be sure that the decisions and issues you'll be responsible for tackling as a board member will keep you motivated.
Show them what you've got
A good board is a balanced combination of individuals who bring savvy leadership, relationship, and technical expertise to advance the mission of the organization they represent.  Think about how you will add value to the organization.  Consider the specific skills, insights and experiences that you bring to the table – both from your perspective and from the perspective of the board members you'll be working with.
Check your schedule  
Be sure that you have time to really commit.  That includes attending and preparing for meetings and could also include participating in fundraising activities, depending on the organization. Your board is counting on you.
Details, details, details
It's a good idea to investigate the board and the organization that you're working with to make sure that they follow best practices.  That includes having board liability insurance, up-to-date bylaws, a 3-year strategic plan, and a conflict of interest policy.
For more information, and to find additional helpful resources about board training or current opportunities, check out Volunteer Manitoba's website www.volunteermanitoba.ca.