Every month, we ask different participants of our Leadership Winnipeg class to blog about their experience…
Too often as Winnipeggers we exercise our one nerve when someone '
not from here
' asks, "Why would you live in Winnipeg anyway?" or criticizes our city in some way.
Typically our response is a defensive one: "Have you ever been here?" or "You just don't get it!" Sadly, sometimes we don't understand 'the why' ourselves and so passively agree with them, emboldening a negative perception of the place we call home.
The fifth leg of our Leadership Winnipeg journey began with education, understanding and appreciation of the breadth of the Social Enterprise Centre (SEC). Manitoba has the largest number of Social Enterprise businesses across Canada and these organizations provide much needed training programs to marginalized people across the province. Throughout the morning we heard from six groups here in the city, getting a sense of the invaluable work they contribute towards our community.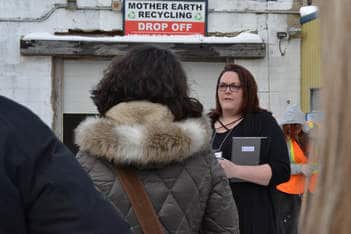 After an information filled morning, we had opportunity to tour Mother Earth Recycling (MER), an Indigenous Social Enterprise, located on Main Street just across the street from SEC. MER has a well-established recycling program for mattresses that effectively breaks down all mattress materials, and distributes them to organizations across Winnipeg (and beyond) for repurposing. MER also recycles electronic equipment, regardless of type or age.
Working with government agencies, non-profits and private organizations, MER provides meaningful training and hands on job experience to the Aboriginal community. There is a real need in Winnipeg to see expansion of MER's programs (both recycling and training).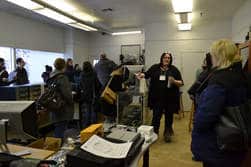 And then came the afternoon, our time spent at the Urban Circle Training Centre (UCTC), an education and training hub for indigenous men and women in Winnipeg, and the point of my introduction.
At Urban Circle, we were greeted by Haven Stumpf and Patti Wandowich, who both have worked at UCTC for many years. Haven and Patti spoke about the role of UCTC in the community, the importance of its building design, and the centre's commitment to enriching the quality of education and cultural teachings to their students.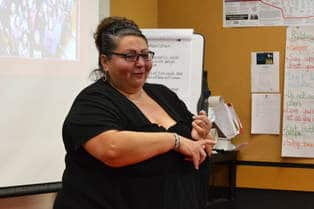 Haven and Patti also shared their own stories as children growing up in the North End. They shared the challenges they faced, their own journey through abuse, rebellion, realization and understanding.  Their humour and insight into the community is incredible and their passion for supporting others within the North End is unwavering and inspiring.
At one point in her story, Haven mentioned looking to purchase her first home. She explored homes in the suburbs, many offering exactly what she was looking for in a home – with the exception of one thing. She realized that being far away from family and friends made it difficult for them to get to her and for her to be there for them. Ultimately Haven chose a home in the North End close to work, family and friends. Her community.
Isn't that what we all look for as we grow older? A place where we fit, one that understands who we are? A sense of belonging and where we can contribute to our surroundings, take pride in who we are as a neighbourhood, a community and a city?
Truthfully, the answer lies in the stories that each and every one of us carry in our hearts. For many of us, Winnipeg is our story – that of our families and the bonds that exist beyond blood lines.
Over  these past five months with Leadership Winnipeg my appreciation of this city has grown exponentially. This is my home and I am proud of every aspect of this city and the daily steps we take to make it better for all.
Remember that one nerve I mentioned? Well, I no longer feel compelled to explain why I live here, rather I will now reply by asking others why they do not. ​