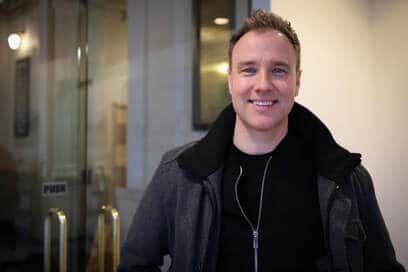 Ian Smith, co-founder of Funding Change
How does an extra couple of thousand dollars on your next paycheque sound?
Local organization Funding Change is piloting a new product called 'payroll raffles,' that allows employers offer their employees the opportunity to subscribe to a bi-weekly 50/50 draw with their coworkers. Half of the pot goes to one lucky winner, and the other half goes to a charitable organization of the raffle organizer's choice.
"Organizations who have a big payroll are loving this," says Ian Smith, co-founder of Funding Change. "It's as close to fundraising on auto-pilot as you can make it. And the employees love it too.
"We're seeing – with employees winning thousands of dollars every pay day – more employees start to get involved. And it also gives the charitable arm a really great platform to talk about what they're doing, so there's a win on all sides."
Funding Change has been on the scene in Winnipeg for about five years now, ever since Smith failed to track down a 50/50 ticket seller at a Winnipeg Jets game in 2014, and knew there had to be an easier way to host a raffle in today's digital age.
So he and his business partners Nicholas Tenszen and Dan Major started Funding Change to provide a simple digital platform for companies to use for their fundraisers and raffles.
"Anybody from a school to a hospital foundation – and we've served all of them – and everyone in between, can go online, create a free account, create a raffle with our setup wizard, get help applying for it, and – after the application goes through – launch it," Smith explains. "We've had everyone from safe grads to pet shelters in The Pas, community groups, theatres, Canada Summer Games, CancerCare Manitoba, up to the Blue Bombers used us for away games for a few years."
The company can provide tablets and portable printers for hassle-free canvassing, which they first launched at Dauphin's Countryfest, helping them raise a record-breaking amount of money ($146,275) for their annual 50/50 draw.
And more recently, The Winnipeg Chamber of Commerce used Funding Change's platform to raise more than $4,000 for United Way Winnipeg through a 50/50 raffle.
But what Smith finds most rewarding about the success Funding Change has had in Manitoba is the simple satisfaction of making it easier for local charities to raise the funds they need to carry out their mission.
"We got a message about a month ago from the Brandon Regional Health Centre Foundation, that they were buying their first piece of equipment for the hospital from the proceeds of the payroll 50/50. That's why we're doing what we're doing.
​
"They've got important work to do. We want to make it easier for them to fulfill their mission. That's really what Funding Change is about."