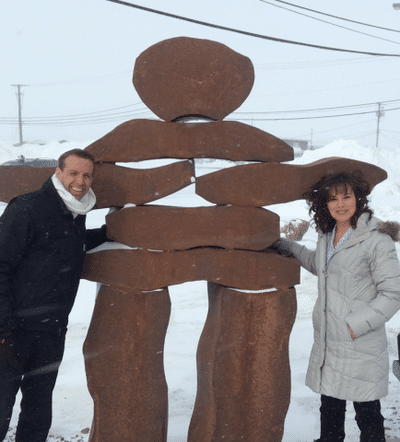 Annette Sabourin with Shawn MacDonald, Regional Vice President, Commercial Financial Services.
Annette Sabourin, Vice President of Aboriginal Markets, is Dene from Northern Manitoba. With 23 years of experience in financial services, Annette is responsible for RBC's Aboriginal Markets Commercial Team in Manitoba, Saskatchewan, Northwestern Ontario and Private & Public Sector in North of 60 and the Territories.  Annette leads a team of sales professionals specialized  in First Nations and Aboriginal owned & operated businesses helping them access capital to create opportunities for own source revenues and sustainable economic development. She is honoured to be leading the Aboriginal Banking team in her Region and believes in an increasingly bright future for Canada's growing First Nations, Métis and Inuit communities.


​
​


Annette, RBC has a long history of partnering with Canada's Indigenous people and communities.  How would you characterize this relationship?
In a few words, I would say deep, diverse, and definitely valued.
I am truly proud of RBC's long history of building relationships with First Nations, Métis and Inuit governments, businesses, communities, organizations, and individuals.   Not only do we seek to earn the right to be a strong financial services provider, we strive to be a valued community partner and the employer of choice for Indigenous people.
I feel it is important that we come together to help make communities stronger and to address issues that are important to all of us whether it be the environment or the challenges faced by Indigenous youth.
As Labrador NunatuKavut Inuit Leader Todd Russell wisely said, "You can't build a country without your indigenous peoples.  When we're weak, this country is weak. And when we're strong, this country is strong."  We at RBC believe that pursuing dynamic and diverse partnerships is key to building a strong economy and healthy communities across Canada.
What inspires you to do the work you do?

I have been fortunate to travel to communities large and small – from the very remote to the far north.  What defines these communities are the people I meet.  From Elders passionate about preserving culture and protecting their  people to the youth with dreams for tomorrow while standing in the face of adversity, I am inspired by generations of individuals seeking to honour tradition and culture while addressing the social issues and economic needs that face communities.   I am inspired by the resilience of Canada's Indigenous people.
Let's talk about community support.  How has RBC supported Indigenous Communities?

From the arts to sport to healthcare to education to the environment and more, we have proudly entered into several partnerships across diverse organizations while supporting events and causes meaningful to Canada's Indigenous people.
For example, from a health and wellness perspective, last year, we announced a three year partnership with Heart & Stroke Foundation, Kidney Foundation of Canada, and National Aboriginal Diabetes Association to help provide access to care to more remote communities through mobile screening and education here in Manitoba.   Healthier Together Mobile Screening Program is a unique initiative designed to help facilitate early detection of chronic health issues while providing the education and counselling that isn't always available in all communities.  Through RBC Foundation's donation of $225,000, programs such as this are made possible.
We also recently supported the North American Indigenous Games in Saskatchewan.  This celebration of community, culture, and sport presented such a moving experience for all of us privileged to attend and support this event.
From breakfast programs to Indigenous art galleries and exhibits to Aboriginal business education programs to friendship centres, we are partnering and supporting Indigenous people and Indigenous culture in many different ways.
​
You clearly have a great deal of passion for Indigenous communities.  What are you looking to add to your list of passions in the coming months?
In addition to continuously exploring ways to deepen our relationship with Indigenous people and communities across our region, I feel very strongly about the newly launched wemattercampaign.org.  Similar to the
It Gets Better campaign
for the LGBT community, We Matter is an online and social media campaign designed to gather messages of hope for our Indigenous communities in videos from individuals across Canada.  We Matter has already published several videos from people in communities large and small – some well-known faces and some unknown – individuals who each carry with them powerful messages that remind us of the value of life and the honour of identifying as Indigenous.  This campaign is in response to the suicide epidemic affecting our Indigenous youth and shares through these videos as well as art and story that there is always a way forward.   I feel very proud that RBC is a founding partner of this initiative.
You spoke earlier about being the employer of choice for Indigenous people.  How is RBC doing that?

While taking steps to ensure a diverse an inclusive workplace, we also are committed to creating opportunity for Indigenous individuals to seek out work experience and employment opportunities while also benefitting from scholarships and awards.
The Aboriginal Student Internship Program, our three year national summer internship program, provides students with exposure to a variety of career options.  Intended for students enrolled in a two year or longer post-secondary program such as Accounting, Finance, Social Science, or Business Administration, this program provides students with coaching, mentoring, and a head start towards building not only valuable work experience but potentially a full time career post-graduation.
Similarly, our Pursue Your Potential Aboriginal program recruits Indigenous talent to help us better serve our communities.  This voluntary program compliments an individual's job search and application process by providing coaching and guidance on finding the right career path, resume writing and interviewing skill building, and highlighting of candidates to hiring managers and our recruitment team.
But it is also important that we continue to contribute to a culture of inclusion at RBC.  That is why I choose to be the Executive Advisor of our regional employee resource group, RBC Royal Eagles.  With over 250 employee members in our region of Manitoba, Saskatchewan, and North Western Ontario with additional chapters coast to coast, the Royal Eagles seek to provide mentorship, a sense of community, cultural education, and community volunteerism.  Consisting of both Indigenous employees and allies, Royal Eagles is RBC's oldest employee resource group dating back to 1990.   Our Royal Eagles have helped champion our recognition of National Aboriginal Day and Orange Shirt Day in remembrance of the victims and survivors of residential schools and they lead the organization of the Royal Eagles Backpack Program providing schools supplies and backpacks to communities in need.
We all have a role to play in building a better tomorrow for all Canadians.
You mentioned that there are many more ways that RBC supports Indigenous communities across Canada.  How can I find out more about these partnerships?

It is important to stress that this truly is a two-way and highly valued partnership.   To learn more about just some of the many ways we partner together is through our annual publication A Chosen Journey: RBC Aboriginal Partnership Report.  This report shares through story, timelines, and profiles how we are collaborating through banking, finance, & investments; social development and community presence; thought leadership; employment, education, & training; and supplier diversity.
While it is not the complete story, it demonstrates both the endurance and breadth of our partnerships