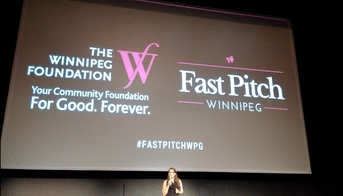 Recently, I read an article by Sir Richard Branson where he said "Storytelling is as old as the campfire". He is absolutely right. Right here in our province, people have been gathering for thousands of years to share stories, thoughts and ideas. And thankfully we still do that today.
The words of Sir Branson made me even more proud of The Winnipeg Foundation's recent initiative
Fast Pitch
. Since January, 15 charities have been working with coaches from the private sector to deliver their "Fast Pitch" or a mini case for support in 3 minutes or less. The initiative combined the magic of storytelling with the strategy of a compelling and urgent request for support. As a coach, I loved learning about an organization, hearing their stories and helping them craft what we believed supporters might invest in. As a Winnipegger, I was awestruck by the inspiring work that is being done quietly every day in our city. Bright, compassionate people are working hard on finding solutions to some of the biggest issues our community faces.
Fast Pitch was a good reminder of the importance of storytelling when engaging our donors. To return to the words of our friend, the knighted entrepreneur, "the ability to tell a story with passion, humour and heart will help build trust. When I am listening to business pitches, if I can understand the vision of the entrepreneur through their storytelling, I am far more likely to get interested."
His thoughts work for charitable "pitches" too. People give to people. Stories transcend cultures and when combined with the right call to action, motivate donors to become engaged. In the end, it is all about sharing, caring and giving.
The judge's winner of The Winnipeg Foundation's Fast Pitch was Chelsea from Sunshine House. In her pitch, she introduced us to Dave, who loves his kids and just wants to live a life of value. With their $10,000 prize, they are using social innovation to convert a garage to a greenhouse to grow vegetables to feed their program participants, sell to restaurants and donate back to Winnipeg Harvest. You never know, Chelsea, you just might find a donor in Sir Richard Branson!