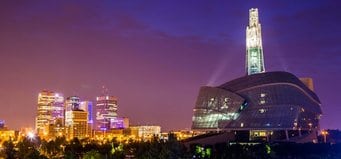 Winnipeg's landscape has changed over the last decade. Our skyline now has a new national museum, our zoo is now an international attraction, we have seen growth on our universities campuses, we have new buildings housing some of our most important work, parks that celebrate our history and our provincial citizens have been celebrated across the country for our generosity and our visionary approach to philanthropy.
All of this was done through the dreams of visionaries who imagined the impact philanthropy could make on our province. These campaigns were built in partnership between the private and public sectors with campaign goals built on two key assumptions:
there would be a private sector goal built on philanthropy and
government funding would be attainable at all three levels.
Over the last several years, both the provincial and federal governments have changed how they fund philanthropic projects. As this represents a significant shift in how fundraising is done, the charitable sector finds the need to change their approach to campaigns and fundraising in general.
Consistently, I am asked for my advice on how best to do this. Here are a few of my answers:
Make sure your project is feasible. You have the dream and it is inspiring but do you have the resources in place both from a staff and volunteer perspective? Do you have a budget in place to manage your campaign costs? Do you have the donors ready to donate in a major capacity and a pipeline of prospects interested and engaged in your cause? Have you done a formal feasibility study?
Invest in a professional campaign plan, a long-term fundraising plan and an organizational business plan. Organizations need to demonstrate to government and to their donors that they have a plan to diversify their revenue through fundraising, a realistic prospect pipeline and where appropriate, business strategies outside of fundraising. If your plan represents growth (like construction of a new building), you need to combine your visionary approach with the economic impact your expansion will make (the solutions you are solving, the revenue you are bringing to the province, and the cost savings through efficiency your project brings). What is your long term philanthropic plan? Have you developed a strategy for corporate partnerships? Planned Giving? And your business plan. Show that you have thought past the end of the Campaign. You need to confirm your project is self sufficient and will not require ongoing government funding after the Campaign is complete and the building is open.
Are your timelines realistic? Yes, your need is high and you want to end your Campaign quickly and launch your program but have you met the necessary timelines of your prospects? Have you fast-tracked solicitations that meet your timeline but are viewed as harmful to the donor? Have you taken the time to develop the strategy necessary to ensure a successful Campaign?
Assess your current fundraising operations. What are you doing well and what could be improved on? Are you overly invested in fundraising programs that may evolve to be less impactful? Have you looked ahead to engage other forms of fundraising that require long term planning (and could help manage operational costs long term) like endowment fund creation and planned giving? Do you have succession planning for your donors, your volunteers and your key staff leadership?
Thank your donors. Before launching anything new, make sure your donors know how much you appreciate and value them. Ask them for their advice. Let them know their impact. Without them, the next phase of your growth will not be possible so balance your desire to cultivate new donors with your priority to thank your current ones.
With these key approaches, you will be better positioned to have a successful campaign. We absolutely want our community to continue to be known for our visionary campaigns and the programs and projects they create, but we need combine this vision with brilliant fundraising, stewardship and business approaches that ensure that our campaign goals are achieved. ​