Whether you're lining up a first time Bumble stumble or celebrating ten years with your sweetheart, creativity matters to romance. Stepping off the beaten path for an unusual night out shows you're more than interested in your partner; you're hoping to make a memory.
1. Go for a sunset canoe cruise along the Red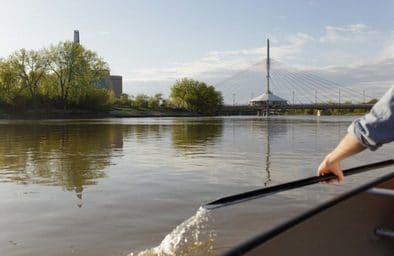 ​Is there a more quintessential Canadian move than holding your partner in the sun's last light as waves gently rock your canoe? Our plaid-wrapped hearts are pounding just thinking about it.
Twin River Travel
runs Friday evening excursions along the Red and Seine River almost every week. They take care of the logistics; you enjoy a new view of the city's landmarks as the day fades into night.
2. Shoot a zombie or paint in 3D

​If your crush hasn't tried virtual reality before, get ready to make their jaws drop. The staff at

The Portal Winnipeg

love introducing newbies to the immersive tech, with games that range from a zombie shooter to something called Richie's Plank Experience (we won't spoil the surprise). Their new Exchange District location has two linked headsets, so play with or against your date – whatever scores you more points.
3. Raise your hipster cred at a pop-up party
Whether you're swimming on a skyscraper's rooftop while a DJ drops the beat or shimmying with salsa dancers in the East Exchange,
The Hub's
experiences are unforgettable and never to be repeated. Download the Culture Card app to sync their party schedule with your date plans. Bonus points: the app will get you and your flame deals to most local hot spots, from
Thermea
to the
symphony
.
4. Hunt ghosts on Broadway

Steamier than an HBO series, Winnipeg's history of sex, crime and secrets will get your beau blushing.

SquarePeg Tours

offers a wide variety of very affordable walks to introduce you to our city's wild history as well as the undead who haunt so many of our historic sites.
5. Align your chakras in mid-air
​We could all use a bit more peace, love and flexibility in our lives, so why not show your partner you care about wellness by getting your asana to a yoga session.
Yoga Public
offers such a wide variety of
classes
, we guarantee there's something you haven't tried, like the floating yoga sessions that move you from the mat into the
hammock
.
6. Get caught in the drama of the Canada Summer Games

Canada's future Olympians will push their bodies and hearts to extremes for

two weeks this summer,

with a

selection of sports

you and your partner haven't had on your doorstep since the Pan-Am Games. Show how passionate you can be as you cheer on Team Toba – or if sports aren't you thing, check out the

festival stages

featuring Tanya Tagaq, Serena Ryder, Coeur de Pirate, JP Hoe and more.
7. See (and taste) Winnipeg's booming beer scene
The recent surge in our brewing community is well known and worth checking out if you and your date enjoy a cold one. Most local breweries will offer a free tour –
PEG Beer Co holds theirs Monday evenings
while
Little Brown Jug's tasting room
actually looks over their equipment. You'll meet some great local entrepreneurs and add some talking points to your next party. Just pace yourself: words like "mouthfeel" "harmonious" or "undertones" are no guarantee of a second date.
8. Book a photo shoot while your city is in bloom

​Okay, this is more of a long-term relationship thing. Unless you're doubling down early in which case… nice confidence (?) Winnipeg comes to life in the summer as people doff their layers, festival season hits its stride and our giant urban tree canopy goes green. While your selfie stick might do in a pinch,

we'd like to recommend some pros

who'll capture the perfect summer moment against the backdrop of our beautiful home.
BONUS: Get into Winnipeg's top attractions for less
​If you want to take your companion on a tour of Winnipeg – or want to give yourself some variety over eight blind dates (no judgement) – pick up a
Winnipeg PASS
and you'll get admission to eight of the city's top attractions while saving over 50 per cent.