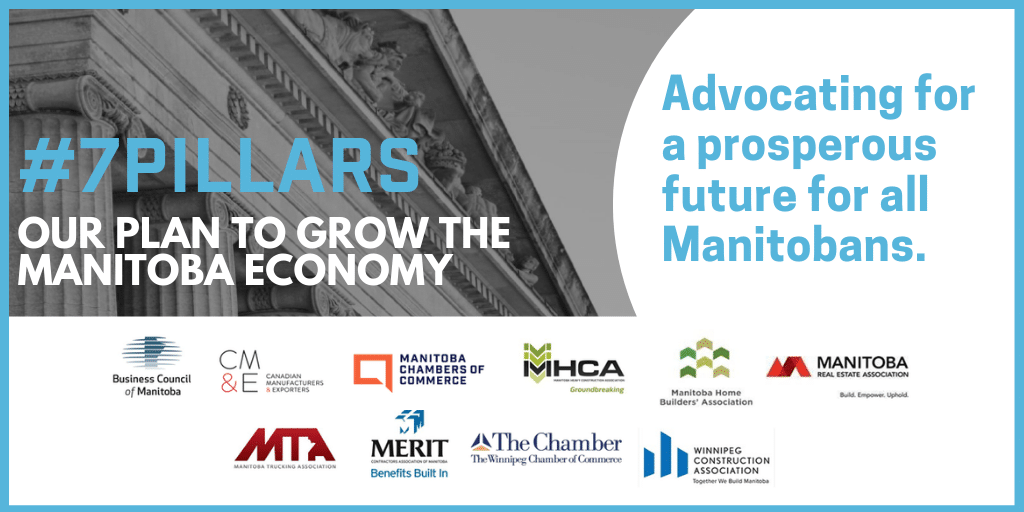 ​Business community unites around shared vision for Manitoba's growth
A group of ten of Manitoba's largest business organizations, including the Winnipeg Chamber of Commerce, have teamed up to say growing the provincial economy needs to be the top priority for the next provincial government.
"Our organizations all agree growing the economy should be the top priority for Manitoba over the next five years," explains Loren Remillard, President & CEO of the Winnipeg Chamber. "A strategic focus on diversifying our province's key industry sectors and strengthening the capacity for export will provide increased employment opportunities. Smart investments lead to growth, more jobs, greater prosperity and a higher quality of life."
Over the course of the current election campaign each of the organizations will release their own proposals for how the next provincial government can achieve success in moving forward on the seven principles.
1. A Common Economic Agenda
Strengthen the partnership with the private sector to build a stronger economic base and ensure Manitoba remains internationally competitive providing employment for a growing population.
2. Infrastructure Investment
With an improving fiscal capacity invest in core, community and educational infrastructure to support vibrant healthy communities connected both within the province and to our trading partners.
3. Global Trade
Build Manitoba's capacity to promote trade and expand our external trade profile to take fuller advantage of our potential and deliver the substantial economic benefits that flow from trade.
4. Indigenous Engagement
Commit to consistent engagement with the federal government and our indigenous communities to ensure Manitoba and its indigenous citizens mutually benefit from a prosperous and growing economy.
5. Producing, Attracting and Retaining Talent
Commit to working with the business and educational sectors to ensure Manitoba produces, attracts, educates, trains and retains the skilled workforce fundamental to sustaining economic growth, prosperity and healthy communities.
6. Access to Capital
Maintain a system for easy access to capital including establishing a framework for venture capital within which both the private and public sectors participate to ensure Manitoba businesses have increased access to capital to allow them to thrive.
7. Establish Strong, Sustainable Fiscal Relationships
Commit to establishing a modern fiscal framework to ensure both provincial and municipal levels deliver on their respective obligations to provide services to Manitobans and build mutually supportive communities.
The Coalition is made up of the following organizations:
​
• Business Council of Manitoba
• Canadian Manufacturers & Exporters
• Manitoba Chambers of Commerce
• Manitoba Heavy Construction Association
• Manitoba Home Builders' Association
• Manitoba Real Estate Association
• Manitoba Trucking Association
• Merit Contractors Association of Manitoba
• Winnipeg Construction Association
• The Winnipeg Chamber of Commerce