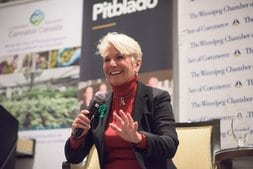 On March 20, the provincial government introduced the
Cannabis Harm Prevention Act
in anticipation of the federal government legalizing marijuana. While the legislation updates a number of other acts (such as the Non-Smokers Protection Act), the major focus is clearly on marijuana impaired driving.
We're pleased the province has identified the safety challenge legalization may present and is taking steps to tackle it. At our recent event When Legalization Comes to Winnipeg, our keynote speaker from Colorado identified roadside testing as a complex, ongoing issue, with difficulty receiving accurate testing depending on the method of marijuana consumption.
This underscores the importance of working with other jurisdictions across North America to develop the technology and procedures to make for accurate testing. Indeed, as legalization approaches, Winnipeg and Manitoba will need to consult with a broad range of experts to make sure our communities make evidence-based decisions to capitalize on the opportunities and mitigate the impacts legalization brings.
​We look forward to working with the province, city and our members on this issue.